All upholstered furnishings inside the new Culp Inc design center at Congdon Yards feature the company's products.
By Andy Warfield - Reporter, Manufacturing, Aviation, Economic Development and Workforce – Triad Business Journal October 05, 2021, 02:40pm EDT
---
The views from the fifth floor of Plant 7 at Congdon Yards provide visions of the past, present and future. One side of the new design center of High Point-based Culp Inc. (NYSE: CULP) overlooks Truist Point Stadium, the centerpiece of a catalyst effort to revitalize a blighted area of downtown. On the other side is the modern architecture of several buildings that comprise the Market District, where spring and fall furniture markets draw tens of thousands of industry professionals to the city.
Below are views of a courtyard that separates Congdon Yards' two fully renovated former hosiery mill buildings — Plant 7 and The Factory — a modern take on historic spaces designed to attract young professionals and innovation to downtown High Point.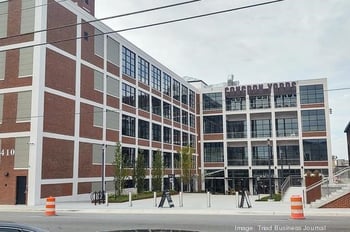 It's the perfect location for Culp's new design center and showroom, which is complete, fully operational and awaiting its debut to buyers and designers visiting the Fall Market Oct. 16-20. And true to its contemporary environment, the 11,500-square-foot space is chock full of innovative interactive technology that allows clients to envision the scope of the global mattress fabrics and upholstery maker's product lines in any imaginable environment.
The experience begins when visitors exit the glass-encased elevator and enter the lobby area, where kiosks are available to provide an interactive tour of various aspects of Culp's entire operation.
"Customers will get a chance to see the whole company innovation — everything from mattress, upholstery and hospitality — and then we can move them into each segment of the showroom," said Culp Inc. President and CEO Iv Culp.
Adds Culp Home Fashions Vice President of Sales and Marketing Jeff Veach, "They can learn not only about the technologies we've got but we'll have videos about our platform so they can see what services we have, information about our cut-and-sew, and our geographies. It will be intuitive to where they can say, 'I didn't realize that you had cut-and-sew in Haiti. That's perfect because I need something near shore."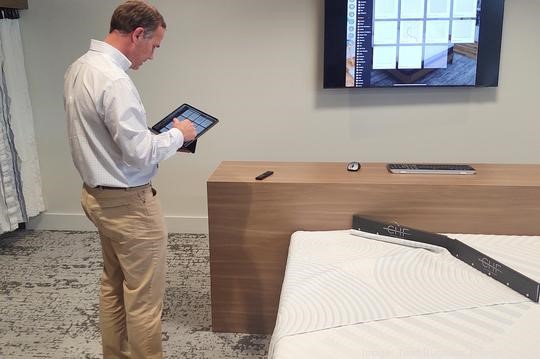 Armed with relevant intel, clients can then be led to their area of interest, be it bedding or upholstery. The experience is a combination of physical samples, colors and textures combined with technology to create virtual environments in which they can view Culp's products in commercial, hospitality or home settings. Culp has partnered with Winston-Salem-based augmented reality provider Live Furnish for that technology.
A hotel client, for example, can view a virtual room in its color scheme with Culp fabrics on furnishings and window coverings. Design concepts can also be generated from scratch not just for hospitality, but for all applications. Can't be there in person? A mobile monitor can be wheeled around the entire showroom, providing a Zoom call experience.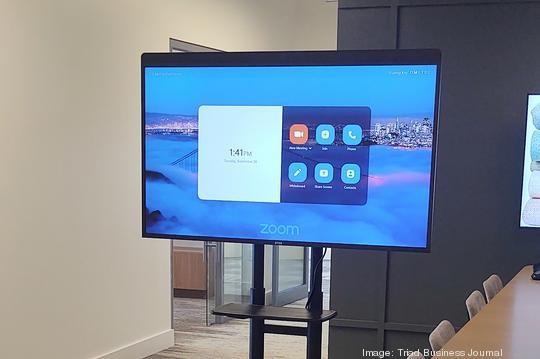 "While we're working we can build a collection of 20 items digitally, and they may be working with a manufacturer and they'll have these 20 concepts to you tomorrow," Veach said. "It takes that development time down from months to hours, and the quality is just amazing. It's just a super powerful tool to be able to integrate into speed to market."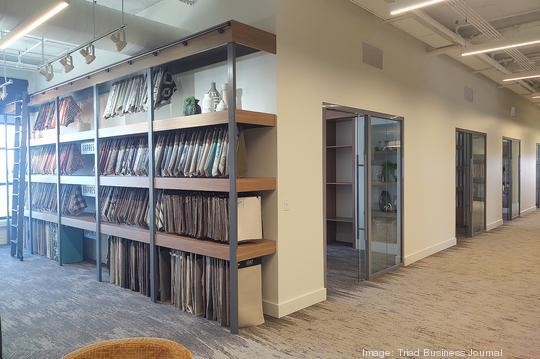 Beyond virtual, the new design center provides a physical experience as well. All upholstered furnishings and window coverings throughout the space are made with Culp products, allowing them to be viewed in a real-world environment.
The combination of the contemporary environment and advanced technology will attract not only clients to the new design center, but talent as well. About 15 employees will work in the space full-time, with others there from time to time either with clients or working for the day.
"We have a lot going for us in this space," Culp said. "A space like this attracts talented people. We think it's a new phase for Culp for sure, and we think our customers and our employees are going to be blown away."