HIGH POINT, N.C. (April 19, 2023) – Just in time for spring furniture market, Culp, Inc. ("Culp"), one of the largest global marketers of upholstery fabrics for residential and commercial furniture, is launching "CULP powered by Nanobionic®," a new wellness-focused upholstery fabric collection.
Through the use of infrared technology, this innovative fabric line transforms furniture into a charging station for the human body, allowing users to restore their bodies while relaxing. Through an exclusive partnership with Nanobionic, Culp's new line of fabrics offers an exciting solution for furniture manufacturers looking to provide retailers and consumers with inspiring innovation focused on enhancing relaxation and rejuvenation.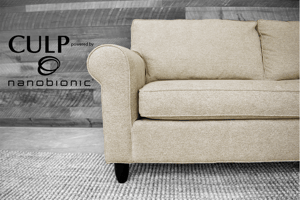 Nanobionic is a mineral-based coating that blends science with wellness and recovery. It is applied as a soft coating on any type of textile, leather, or artificial leather, where it uses Far Infrared Rays to transform a user's natural body heat into invisible waves of energy that flow back into the body. This energy recycling promotes a temporary increase of blood flow at the site of application in healthy individuals, generating increased circulation and enhancing recovery.
"The demand for innovation continues to grow as consumers look for new solutions to improve and enhance their everyday lives," said Tammy Buckner, senior vice president of design and marketing for Culp's upholstery fabrics division. "The CULP powered by Nanobionic® fabric collection, which is offered in a beautiful array of fabrics featuring soft textures and stylish colors, allows people to use their furniture to relax, recharge, and recover within the comfort of their own homes. This is truly next generation textile innovation."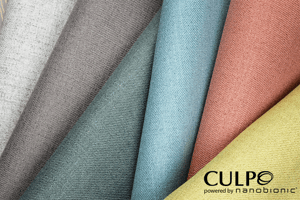 Commenting on the company's new fabric line, Iv Culp, President and Chief Executive Officer of Culp, Inc., said "Culp is known for its product innovation, including our popular LiveSmart® performance fabrics and LiveSmart Evolve® sustainability fabrics, and we are extremely excited to partner with Nanobionic to bring this new technology to the home furnishings industry. We believe incorporating the Nanobionic technology into upholstered furniture that consumers use each day can be a game changing solution for offering a performance product that now works to enhance the body."
Nanobionic products are registered with the United States Food and Drug Administration (FDA) as general wellness products. Nanobionic is also a recipient of NASA's coveted iTech award for best product innovation
Culp, Inc. is one of the world's largest manufacturers and marketers of mattress fabrics for bedding and upholstery fabrics for residential and commercial furniture. The company markets a variety of fabrics to its global customer base of leading bedding and furniture companies, including fabrics produced at Culp's manufacturing facilities and fabrics sourced through other suppliers. Culp has manufacturing and sourcing operations located in the United States, Canada, China, Vietnam, Turkey and Haiti.