HIGH POINT, N.C. ─ Culp, Inc. (NYSE: CULP) partnered with North Carolina vaccine providers to offer on-site COVID-19 vaccination clinics to eligible company employees, their families, and the public. The clinics were held March 25th – 27th at two of Culp's facilities located in High Point and Stokesdale, NC.
Iv Culp, president and CEO of Culp, Inc. said, "I am so grateful for our CULP HR Services team and the healthcare providers for creating this opportunity for our employees and our great community. Throughout this pandemic, we have all focused on maintaining a safe work environment, and we believe that offering vaccinations on-site to those that choose to participate is a tremendously positive step."
Over 600 people received vaccinations at two CULP locations. Attendees took advantage of the availability of appointments to register for the event. One resident said he had been trying for three months to register for the vaccine, but couldn't find any available spots. When he heard there were available time slots for eligible individuals at the CULP locations, he quickly registered and said he was happy to make the drive to Stokesdale in order to get the vaccine. Both the Pfizer and the Moderna vaccines were administered, and second doses will be offered at the recommended intervals at the same locations.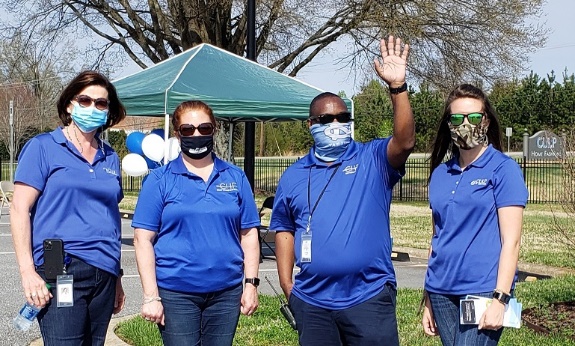 Culp's HR team welcoming vaccination participants.
Expressing her gratitude for CULP associates, senior vice president of Human Resources, Teresa Huffman said, "We value our associates and their families. We are so glad to have had the chance to provide them with the opportunity to receive the COVID vaccine if they were interested. Being able to help offer the vaccine to the community was an added bonus and an especially proud moment for Culp."